To serve our members we enforce the Contract and we provide…
Training
workshops to prepare for renewal, promotion, and tenure;
workshops for Chairs and DECs to properly evaluate faculty;
department liaison training.
Representation and Support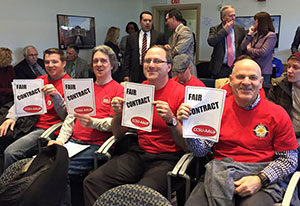 intervention in violations of renewal, promotion, or tenure procedures;
preparation of grievances or help in self-filing;
support and advocacy in disciplinary matters.
Mediation and Advice
mediation with management if conflict arises;
help in solving interpersonal problems;
help with issues concerning salary, disability, pension, and other items related to Human Resources.
Community
members are identified by red t-shirts;
regular Chapter meetings and socials build our strength and show that solidarity works!