EVENTS: Upcoming
March 28, 2018.  Wednesday, 11am-2pm. Save our Schools, Defend our Communities; Attacks on Education & Efforts to Fight Back.  Memorial Hall, Constitution Room.  Talk by Professor Richard Wolff, and panel about the teacher fight back in MA, NJ, and CT.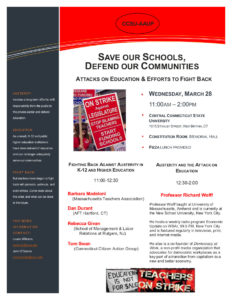 April 4, 2018. Anniversary of Martin Luther King. The Due Justice Coalition is calling Labor to Hartford this April 4, 2018 to remember that Dr. King stood up for labor, as well as justice and peace.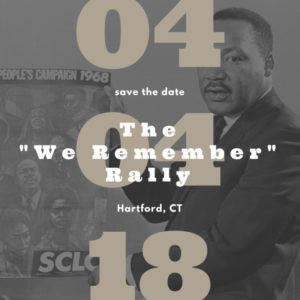 April 11, 2018. Lobby Day for Public Higher Education. Hartford, Legislative Office Building.
EVENTS: CSU Recent
Monday, February 26 12:00 pm – 2:00 pm Janus Rally @ Connecticut Supreme Court Building. Show your support for your union.  On February 26, the Supreme Court will hear Janus vs. AFSCME, a case that would slash union rights for all public sector union members. Join union members from all over Connecticut to #Resist! this attack on our ability to organize.  For more on the Janus Case and Why CCSU AAUP is Concerned about it.
February 7, 2018. Sharing the Syllabus. On opening day of the 2018 legislative session faculty from the CSUs, Community Colleges, UConn, and UConn Health will share a syllabus with lawmakers that details how to create a Connecticut where all residents #ThriveTogether through public Higher Education.  Hartford, Legislative Office Building.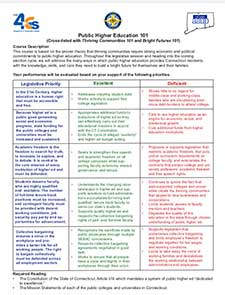 January 24, 2018. Politicians, Pens, Pizza #2 Join us for the second event in this series.  CT politicians Greg Haddad, Matt Lesser, and Chris Soto will join us for an informal discussion about the possibility of Free Tuition in CT.  Faculty and students can write their legislators.  Pizza will be provided.  All members of the CCSU community are welcome. CCSU, Southwest Study Room, Memorial Hall.
EVENTS: CT Recent
January 23-February 1, 2018. Due Justice Regional Organizing Sessions. Bringing together labor, faith, advocacy and community organizations to build and advance a bold agenda for A Connecticut That Works For All – Not Just the Few.
January 23, Rocky Hill Congregational Church, Rocky Hill
January 25, First United Church, Milford
January, 30th Norwalk Community College, Norwalk
January 31, Mitchell College, New London- To be confirmed
February 1, Naugatuck Valley Community College, Waterbury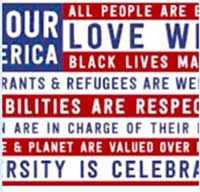 DUE Justice Coalition- Democracy, Unity and Equality Connecticut
NEWS: CSU
CCSU
CT Politicians Talk Importance of Political Involvement with CCSU Students, Kristina Vakhman, Central Recorder, November 8, 2017
Board of Regents
Ojakian Hopes Detailed Consolidation Plan Will Address Accreditors' Concerns, Kathy Megan, Hartford Courant, March 2, 2018.
Lawmakers question college consolidation plan, Linda Conner Lambeck, CT Post, January 31, 2018
Proposal to consolidate state's community colleges, Katie Corrado, Fox 61 News, January 30, 2018
Accrediting officials advise state on college merger plan, Linda Conner Lambeck, CT Post, January 11, 2018
Board of Regents' Consolidation Plan Raises Red Flags, CSU-AAUP, December 13, 2017
Merger Plan for Community Colleges Remains Controversial, Linda Conner Lambeck, CT Post, December 12, 2017
Board of Regents votes to consolidate all 12 community colleges, The CT Mirror, December 14, 2017
Faculty Speak Out Against Community College Consolidation Plan, Kathleen Megan, Hartford Courant, December 12, 2017
Free College Tuition in Connecticut

Democratic Legislators Propose Free State College Programs, Kathy Megan, Hartford Courant, March 1, 2018
Connecticut Democrats unveil free college plan, Linda Conner Lambeck, March 1, 2018
Democratic Lawmakers Detail Free College Tuition, Parker Fiske, CT News Junkie, March 2, 2018
NEWS: National and International
Higher Education: Tuition
Universities in Illinois Extend Tuition Freezes to Stem Enrollment Slides, Lee Gardner, Chronicle of Higher Education¸ January 5, 2018
Teachers' Unions
West Virginia Raises Teachers' Pay to End Statewide Strike, Jess Bidgood, New York Times, March 6, 2018
Oklahoma Teachers May Soon Go On Strike, Rich McKay, Huffington Post, March 5, 2018
All of West Virginia's teachers have been on strike for over a week, Emily Stewart, Vox, Mar 4, 2018
British Academics Strike to Save Pensions, Steven Parfitt, Labor Notes, March 02, 2018
In a Historic First, the Chicago Teachers Union and Charter School Teachers Have Joined Forces, Jeff Schuhrke, In These Times, Feb 1, 2018