Our Ideas on Higher Education, Unions, Connecticut
CCSU Faculty Research
Board of Regents
Paul Karpuk argues that Board of Regents Should be Disbanded, CT Viewpoints, February 20, 2018. "The BOR's blundering, and the communicative dysfunction between it and the great majority of system personnel … is typical of the breathtaking incompetence that has characterized the CSCU system of governance since its founding."
Louise Williams thinks Regents Failed to do College Merger Homework, Hartford Courant, January 30, 2018. "It's painfully obvious that the Connecticut Board of Regents for Higher Education hasn't done its homework on Students First, the ill-thought-out planned merger of the state's 12 community colleges."
David Blitz provides a History and Critique of the Board of Regents, November 2017. "What follows is an analysis and critique of the plans and projects of the Board of Regents for Public Higher Education of Connecticut."
Unions
John O'Connor and Louise Williams are Tired of Concessions, Labor Notes, August 29, 2017.  "For the third time in eight years, public sector workers in Connecticut have voted for concessions. .… Although the concessions were clear, it's the politics behind the agreement that are troubling."
Connecticut
Jared Ragusett, Paramita Dhar, and Carlos Liard-Muriente prove Connecticut's economic competitiveness and quality of life, April 3, 2017.  "The results of this study indicate that Connecticut's economic competitiveness and quality of life are strong, and reflective of long term public investments."
Of Interest
Higher Education
Quality matters
"It is to our detriment that the political focus on technology sees science and society as separate or even as being opposed. We need joined-up thinking." Rushing students through university and fixating on science is not the way forward, David Cannadine, Guardian, December 22, 2017.
The Benefits of Higher Education
"Despite the rising cost, a college education is still practically a windfall-profit investment for most graduates." Beyond the College Earnings Premium. Way Beyond, Philip Trostel. The Chronicle of Higher Education, January 28, 2017.
See also:
Free Tuition
"…we are hurtling toward a system in which the affordable public college options of yesteryear no longer exist, with student debt simply replacing what was once paid for mainly by society," Addressing the Top Misconceptions about Debt-Free College, Mark Huelsman, Demos, September 28, 2016
Mergers and Reorganization
"As the higher education landscape grows increasingly complex, uncertain and dynamic, a more nuanced and creative approach to strategic alliances is needed." Between Collaboration and Merger, TIAA Institute, November 2015.
See also:
Connecticut
Inequality
"New Haven is among the most diverse cities in the United States, but like most American cities, its neighborhoods, schools and community spaces are strikingly segregated on racial and socioeconomic lines." Our Segregated Lives: Connecticut's Racial, Economic Inequality, Michael Kraus, Hartford Courant, December 3, 2017.
Budget
"The state of Connecticut has many nicknames. …. But as Connecticut grapples with a deep fiscal crisis, it might as well embrace another moniker: The Rorschach State. For the left and the right, it is the manifestation of each side's greatest fears." What on Earth is Wrong with Connecticut?  Derek Thompson, Atlantic, July 5, 2017.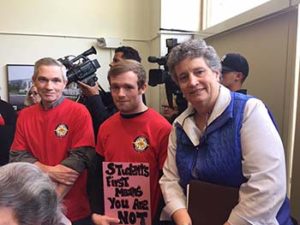 Unions: Organizing
"For many years now, observers have been ringing the death knell for the U.S. labor movement. West Virginia teachers haven't just pumped life back into that movement—they've reaffirmed the fundamental principle that the key to building power and winning is for workers to withhold their labor."  The Lesson From West Virginia Teachers? If You Want to Win, Go on Strike, Miles Kampf-Lassin, In These Times, March 6, 2018.
"Austerity, growing inequality, and the economic and political domination of billionaires, bankers, hedge funds, and giant corporations make the current moment ripe for birthing a movement that can radically transform the country and the world. This is a time of great peril, but also of extraordinary opportunity and—yes—reasons for hope." Organizing in a Brave New World, Stephen Lerner and Saqib Bhatti, New Labor Forum, June 2016.
Unions
Attacks on Unions: Janus
"Over the last decade, a number of cases attacking the rights of public-sector union members have been quietly working their way through the courts and, finally, up to the U.S. Supreme Court." These cases "are being financed by a small group of foundations with ties to the largest and most powerful corporate lobbies." Janus and fair share fees. The organizations financing the attack on unions' ability to represent workers," Economic Policy Institute, February 21, 2018.
"Of all the blockbuster cases at the Supreme Court this year, Janus v American Federation of State, County and Municipal Employees (AFSCME) is expected to hold the fewest surprises.  …..  Janus is at bottom a bid to undermine America's labour movement." Will the Supreme Court deal a blow to trade unions?  S.M. The Economist, Feb. 1, 2018.
"One of corporate America's next big goals might surprise you: passing legislation to prevent unions from having to represent workers who don't pay dues. This is just the latest of many business-friendly labor law reforms proliferating across the country." Don't Fall for the Members-Only Unionism Trap, Chris Brooks, Labor Notes, January 4, 2018
"Chris Brooks has argued that unions facing the loss of "fair share" payments should not look to free themselves of the obligation to represent non-members in the bargaining unit by giving up exclusive representation. ….  Brooks may be right, but I'm not persuaded."  Viewpoint: Don't Rule Out Giving Up Exclusive Representation, Steve Downs, Labor Notes, January 4, 2018
Attack on Unions: Pensions & Benefits
"While many current retirees are reasonably comfortable because they have pensions, the future does not look bright for those yet to retire. Traditional defined-benefit pensions are rapidly disappearing….." The Attack on Workers' Retirement, Dean Baker, Labor Notes, January 12, 2018.
Attack on Unions: Politics
"In recent years, Republicans have dramatically intensified their war on organized labor. …. …there is good reason to believe that all these efforts will profoundly change the future of American politics."  How the Right's War on Unions Is Killing the Democratic Party, Sean Mcelwee, the Nation, Jan. 22, 2018.