Our Ideas on Higher Education, Unions, Connecticut
CCSU Faculty Research
Board of Regents
Matthew Warshauer thinks Regents, Ojakian Fail, Time To Start Over, Hartford Courant, April 27, 2018. "After seven years, five presidents and millions of squandered taxpayer dollars, the Board of Regents for Higher Education, which oversees Connecticut's four state universities and 12 community colleges, has failed miserably, again."
Paul Karpuk argues that Board of Regents Should be Disbanded, CT Viewpoints, February 20, 2018. "The BOR's blundering, and the communicative dysfunction between it and the great majority of system personnel … is typical of the breathtaking incompetence that has characterized the CSCU system of governance since its founding."
Louise Williams thinks Regents Failed to do College Merger Homework, Hartford Courant, January 30, 2018. "It's painfully obvious that the Connecticut Board of Regents for Higher Education hasn't done its homework on Students First, the ill-thought-out planned merger of the state's 12 community colleges."
David Blitz provides a History and Critique of the Board of Regents, November 2017. "What follows is an analysis and critique of the plans and projects of the Board of Regents for Public Higher Education of Connecticut."
Unions
John O'Connor and Louise Williams are Tired of Concessions, Labor Notes, August 29, 2017.  "For the third time in eight years, public sector workers in Connecticut have voted for concessions. .… Although the concessions were clear, it's the politics behind the agreement that are troubling."
Connecticut
Jared Ragusett, Paramita Dhar, and Carlos Liard-Muriente prove Connecticut's economic competitiveness and quality of life, April 3, 2017.  "The results of this study indicate that Connecticut's economic competitiveness and quality of life are strong, and reflective of long term public investments."

Of Interest
Higher Education
The Benefits of Higher Education
"Despite the rising cost, a college education is still practically a windfall-profit investment for most graduates." Beyond the College Earnings Premium. Way Beyond, Philip Trostel. The Chronicle of Higher Education, January 28, 2017.
See also:
Attacks on Higher Education
"Tenure-track positions are shrinking at colleges and universities. As a result, people with advanced degrees have found themselves in lower-paying adjunct positions indefinitely. And that has led to a full-blown crisis…," Adjunct Professors Step up Their Efforts to Increase Pay. Phyllis Korkki, New York Times, April 5 2018
"As universities move towards a corporate business model, precarity is being imposed by force.  On Hiring Faculty off the Tenure Track.  That's part of the business model. It's the same as hiring temps in industry or what they call "associates" at Walmart, employees that aren't owed benefits. It's a part of a corporate business model designed to reduce labor costs and to increase labor servility."  The Death of American Universities. Noam Chomsky, Jacobin Magazine, 2014
"..here is the recipe for killing universities, and you tell me if what I'm describing isn't exactly what is at the root of all the problems of our country's system of higher education. (Because what I'm saying has more recently been applied to K-12 public education as well.)"  Here's How Higher Education Was Destroyed in 5 Basic Steps. Debra Leigh Scott, alternet.org, June 2, 2018.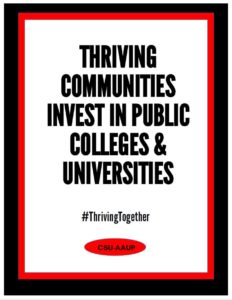 Connecticut
Inequality
"New Haven is among the most diverse cities in the United States, but like most American cities, its neighborhoods, schools and community spaces are strikingly segregated on racial and socioeconomic lines." Our Segregated Lives: Connecticut's Racial, Economic Inequality, Michael Kraus, Hartford Courant, December 3, 2017.
USA
Inequality
"Airbnb, the popular platform that lets people rent out their homes and apartments, released the results of a volunteer survey this week containing the striking statistic that nearly one in 10 of its hosts in the United States is an educator….using Airbnb to supplement their regular income, as teachers struggle with stagnant, if not declining, pay." Low Pay Has Teachers Flocking to the Sharing Economy. One in 10 Airbnb hosts in the U.S. is a teacher, a new report shows. Alia Wong, The Atlantic, Aug 17, 2018
"…in 2017 the average CEO of the 350 largest firms in the U.S. received $18.9 million in compensation, a 17.6 percent increase over 2016. The typical worker's compensation remained flat, rising a mere 0.3 percent. The 2017 CEO-to-worker compensation ratio of 312-to-1 was far greater than the 20-to-1 ratio in 1965 and more than five times greater than the 58-to-1 ratio in 1989…." CEO compensation surged in 2017. Lawrence Mishel and Jessica Schieder, August 16, 2018z
"The gap between the rich and the poor in America has ballooned over the last several decades. In 2015, the top 1% of Americans made 26.3 times as much income as the bottom 99 percent — an increase from 2013, when they earned 25.3 times as much, according to a recent study released by the Economic Policy Institute, a left-leaning Washington, D.C. think tank." America's 1% hasn't controlled this much wealth since before the Great Depression. Kari Paul, Market Watch, August 5, 2018
"From 2009 to 2015, the incomes of the top 1 percent grew faster than the incomes of the bottom 99 percent in 43 states and the District of Columbia. The top 1 percent captured half or more of all income growth in nine states. In 2015, a family in the top 1 percent nationally received, on average, 26.3 times as much income as a family in the bottom 99 percent." The new gilded age. Income inequality in the U.S. by state, metropolitan area, and county Estelle Sommeiller and Mark Price, Economic Policy Institute, July 19, 2018
"As the influence of U.S. labor unions has waned over the last half-century, inequality in American life has increased. Today, only 11% of American workers are covered by unions, which is a sharp contrast from the 1950s when a third of the U.S. workforce was unionized or in a job represented by a union…." One theory why income inequality has grown in America. Jacob Passy, Economic Policy Institute, August 24, 2017
Recent Victories
Teachers
"It's the national teacher rebellion and what started in a rural county in southwest West Virginia has spread like wildfire and inspired teachers across the country. Now the rebellion continues in California. Check out these news clips (11 min) of what happened." The Teacher Uprising of 2018 video.
"Lawmakers thought they could eke through another austerity budget with the last-minute addition of a $6,100 wage hike. But an estimated 30,000 educators stopped work starting Monday to force some 200 schools to shutter, in order to send the message to elected representatives that their gesture is insufficient." The Oklahoma Teachers' Strike Is a Mutiny Against Austerity. Michelle Chen, In These Times, April 5, 2018
"For many years now, observers have been ringing the death knell for the U.S. labor movement. West Virginia teachers haven't just pumped life back into that movement—they've reaffirmed the fundamental principle that the key to building power and winning is for workers to withhold their labor."  The Lesson From West Virginia Teachers? If You Want to Win, Go on Strike, Miles Kampf-Lassin, In These Times, March 6, 2018.
Union Organizing
"Austerity, growing inequality, and the economic and political domination of billionaires, bankers, hedge funds, and giant corporations make the current moment ripe for birthing a movement that can radically transform the country and the world. This is a time of great peril, but also of extraordinary opportunity and—yes—reasons for hope." Organizing in a Brave New World, Stephen Lerner and Saqib Bhatti, New Labor Forum, June 2016.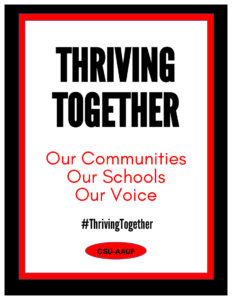 Unions
Attacks on Unions
"Recent efforts to undercut the US labor movement will disproportionately affect African Americans. …. Thanks in part to the work of groups like AFSCME Local 1733 – still going strong today – many black workers are now organized in labor unions. They have better pay and fairer treatment…. But the hard-fought gains of the black labor movement may be once again under threat." Unions brought black Americans into the middle class. They're now being decimated.  Caleb Gayle, The Guardian, August 14, 2018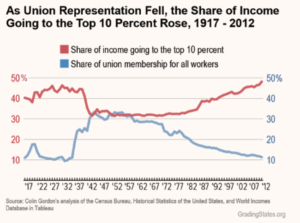 "Much will be said of Janus and its impact on unions—particularly union finances. But today's decision is really about working people's finances—our wages and our benefits. Unions provide a means for working people to come together and ensure that we are paid fairly and treated with dignity on the job. Unions are fundamental to a fair economy."  Janus decision is not about union finances—it's about working people's finances.  Celine McNicholas, Economic Policy Institute, June 27, 2018
"Data on union membership trends shed light on why a Supreme Court decision affecting the unionized state and local government workforce has broad implications. …. A majority (58 percent) of union workers … in state and local government are women. African Americans, Latinos, and Asian Americans and Pacific Islanders make up one-third of unionized state and local government workers. …teachers constitute the single largest subgroup of union workers in state and local government…."  A profile of union workers in state and local government. Key facts about the sector for followers of Janus v. AFSCME Council 31. Julia Wolfe and John Schmitt, Economic Policy Institute, June 7, 2018
Last week, the U.S. Supreme Court ruled on Janus v. AFSCME Council 31. …. This decision will have profound implications for all state and local government workers throughout the country, not just the share covered by a union contract. ….This attack on public sector workers and their well-being not only lessens those workers' ability to make ends meet, but undermines the public services they provide." What to Watch on Jobs Day: Public sector jobs are threatened by austerity and attacks on collective bargaining.  Elise Gould, Economic Policy Institute, July 5, 2018
"The anxiety and seething anger that followed the disappearance of middle-income jobs in factory towns has helped reshape the American political map and topple longstanding policies on tariffs and immigration. But globalization and automation aren't the only forces responsible for the loss of those reliable paychecks. So is the steady erosion of the public sector." Public Servants Are Losing Their Foothold in the Middle Class. Patricia Cohen and Robert Gebeloff, New York Times, April 22, 2018
"Over the last decade, a number of cases attacking the rights of public-sector union members have been quietly working their way through the courts and, finally, up to the U.S. Supreme Court." These cases "are being financed by a small group of foundations with ties to the largest and most powerful corporate lobbies." Janus and fair share fees. The organizations financing the attack on unions' ability to represent workers," Economic Policy Institute, February 21, 2018.
Recent Victories
Collective Bargaining
"For the first time in years, unions are winning again. At least that was their takeaway from a successful referendum fight against Missouri's Right to Work Law, which was overturned at the ballot box last Tuesday." Missouri just showed that unions are winning again. Alexandra Jaffe, Vice, August 15, 2018
"Missouri voters resoundingly rejected the state's new right-to-work statute by referendum Tuesday night, delivering a stinging rebuke to the GOP legislature that recently tried to implement the law. The vote on Proposition A wasn't even close: The "no" crowd defeated the "yes" crowd by a 2-to-1 margin." How Labor Won The Right-To-Work Fight In Missouri.  It turns out unions run a fearsome ground game when they need to. Dave Jamieson, Huffington Post, August 8 2018.
"Yesterday, the people of Missouri spoke loud and clear, beating back the latest attack by big business on working people by rejecting a so-called "right-to-work" law by a decisive margin." Missouri voters strike a blow for working people. Heidi Shierholz, Economic Policy Institute, August 8, 2018
Challenges to Austerity
"Since the 2010 election of Governor Scott Walker in Wisconsin and Governor Mark Dayton in Minnesota, lawmakers in these two neighboring states have enacted vastly different policy agendas. Governor Walker and the Wisconsin state legislature have pursued a highly conservative agenda centered on cutting taxes, shrinking government, and weakening unions. In contrast, Minnesota under Governor Dayton has enacted a slate of progressive priorities: raising the minimum wage, strengthening safety net programs and labor standards, and boosting public investments in infrastructure and education, financed through higher taxes (largely on the wealthy)." As Wisconsin's and Minnesota's lawmakers took divergent paths, so did their economies. Since 2010, Minnesota's economy has performed far better for working families than Wisconsin's.  David Cooper, Economic Policy Institute, May 8, 2018
"At a time of mounting uncertainty in Europe, Portugal has defied critics who have insisted on austerity as the answer to the Continent's economic and financial crisis. While countries from Greece to Ireland — and for a stretch, Portugal itself — toed the line, Lisbon resisted, helping to stoke a revival that drove economic growth last year to its highest level in a decade." Portugal Dared to Cast Aside Austerity. It's Having a Major Revival.  Liz Alderman, New York Times, July 22, 2018