Nov
13
Wed
Higher Expectations for Higher Educations: Featuring Dr. Kathy Hermes's work rediscovering Hartford's past

@ CCSU Memorial Hall, Constitution Room
Nov 13 @ 5:00 pm – 8:00 pm
Please join us for an evening of discovery at Central Connecticut State University.  History professor Dr. Katherine Hermes will take us on a journey to a newly discovered part of Hartford's past, and show us that there is much more to learn about our community than we ever knew. This event is free and open to the public.
CCSU-AAUP is proud to showcase "Recovering Hartford's Hidden Past: People of Color in Hartford's Ancient Burying Ground, 1640-1815."  This is an example of the collaborative and interdisciplinary research for which our faculty are known throughout Connecticut. Dr. Hermes was supported by a research team that includes students, librarians, artists, and computer scientists, as well as Hartford's Ancient Burying Ground Association and the Connecticut State Historic Preservation Office.
Together their work made it possible to uncover the identity and life stories of hundreds of African and Native Americans who helped build Hartford, and, as a result, honor the lives and deaths of city founders who, until now, have been forgotten.
Wednesday, November 13, 2019, Constitution Room, Memorial Hall, CCSU.
          5 p.m.: Meet and Greet.
            6 p.m.: Dr. Hermes' Presentation.             
            7 p.m.: Audience Q&A with the research team.
Refreshments served throughout the evening.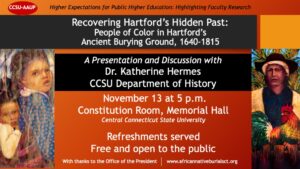 Apr
3
Fri
Canceled: FAC Conference: The Challenges to Public Higher Education In The Era Of Globalization

@ O'Neill/Feldman Center, Westside Campus
Apr 3 @ 8:00 am – 4:00 pm
The challenges to public higher education became noticeable since the 1980s, just as globalization, which empowered many countries around the world to become more open to foreign trade and investment, gained momentum. The openness to international commerce and capital mobility, which led to the quick diffusion of modern technologies and global demonstration effects, came with many challenges. Now, the challenges to public higher education are multifaceted and amplified in this era of rising tuitions and administrative costs of public higher education; therefore, research scholars need to carefully and thoroughly examine these challenges as we move forward in this era of globalization because the development and diffusion of modern technologies arise from the acquisition of human capital provided by higher education.
Join faculty, students, staff, and administrators as we dissect these issues, looking at how they affect public higher education and how higher education needs to respond.